STUDENT ACCOMMODATION
Finding accommodation in Japan can be hard for foreigners. Through our partners, we have several accommodation options available from which you can choose. We can present options for Home Stay, Guest House accommodations as well as provide Realtor recommendation if you are looking to rent an apartment.
HOME STAY
Staying with a Japanese family in a Homestay program provides a better understanding and appreciation of the Japanese family daily life, while also having the opportunity to practice your Japanese. You will enjoy family meals and outings, as well as introduce your own culture to your host family.
Meals

includes breakfast and dinner

Location

Within 60 minutes from the school

Duration

3-month maximum per family
SHARE HOUSE
Living in a Share House or Guest House will provide you with the opportunity to widen your circle of friends when you go home as well. Live with Japanese and Foreign nationals in a multicultural environment, most share houses provide both private and shared rooms depending on your preference, some share houses have women-only properties available as well.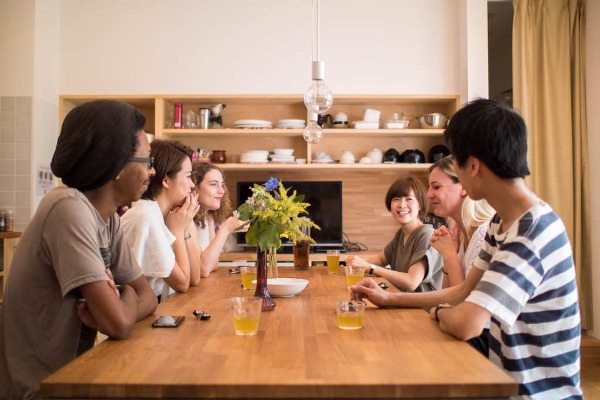 Sample Guesthouse at Borderless House.
Rent

Starting at 40,000 yen per month

Utilities and Internet

Usually included in the rent

Location

Share houses are available throughout Tokyo area

Discounts

Our Students may receive discounts
APARTMENT
Apartments come in all shapes and sizes. There are unfurnished, semi-furnished, fully furnished, serviced apartments and many more to choose from. Apartments can be relatively expensive compared to homestay or share house but if you are staying for a long period, looking for complete privacy or wish to share an apartment with a friend then this might be right for you.
Initial cost

Starting with the equivalent of 3 month rent

Duration

Usually a 2 years contract but you may terminate the contract whenever you wish
J&F Plaza -"International exchange" is the concept of this large scale share house. You will make many Japanese friends!
SAKURA HOUSE - Home Away from Home. 
Provides furnished apartments, share houses, dormitories to foreign students since 1992. Accommodation near the school available.
Shibuya Gaigo Gakuin - Exclusive Contact Form
WONDER-POWERED YOÜ - A student residence attached to a hotel.
It is a place where you can interact with Japanese
and other international guests.
Of course, the staff speaks both Japanese and English,
so you can feel comfortable!